About Textile Center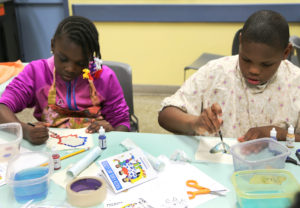 The Textile Center is a national center for fiber art founded in 1994. It represents and supports fiber artists working in all forms of textile media. Through exhibitions, education programs and textile arts resources, the Textile Center promotes fiber art as a living art form that is rooted in every culture, supports the creative development of fiber artists, and preserves traditional fiber arts as well as encourages experimentation and new fiber art forms.  
The Good Family Foundation supports the Center's Youth Fiber Art Guild; an afterschool program for 4th and 5th graders, conceived by Executive Director Karl Reichert, held at two community centers in Southeast and North Minneapolis. The Youth Guild allows youth to explore their creativity as they gather in community to work on fiber arts projects grounded in and celebrating diverse cultures.