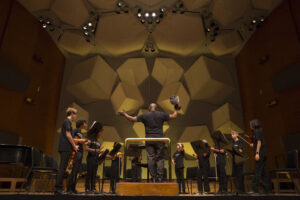 About Walker|West Music Academy
Located in Saint Paul's Summit-University neighborhood, Walker West Music Academy is a community music center founded by renowned African American musicians Reverend Carl Walker and Grant West in 1988. It is committed to making a difference and using its music education expertise to help address the state's African American school achievement gap. Programming includes all-ages music lessons, school residencies, teen digital music production classes, summer camps, dementia-friendly Amazing Grace Choir, and community music performance series. Walker West is in a phase of expansion under the leadership of Executive Director, Braxton Haulcy. In 2023 it purchased a nearby property with nearly 16,000 square feet that will provide improved rehearsal and studio rooms, two performance halls, needed administrative space and instrument storage. A $15.1 million capital campaign is underway to finance the new facility, expand music education access and build an endowment.
The Good Family Foundation is a long-time supporter of Walker West and has awarded general operating grants for the past four years. Prior grants supported student scholarships.